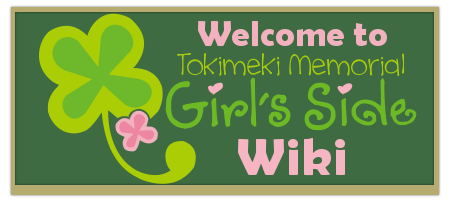 Tokimeki Memorial Girl's Side 4th Heart is set to release October 28, 2021!

About
Tokimeki Memorial Girl's Side (ときめきメモリアル Girl's Side, Tokimeki Memoriaru Girl's Side) is a female-oriented dating sim video game series, originally released by Konami for the Playstation 2 game console on June 20, 2002.
The game has spawned 2 direct sequels and several spin-off games that are playable on various consoles, including the Nintendo DS, Nintendo DSi, PlayStation Portable and PC. A fourth installment, Tokimeki Memorial Girl's Side 4th Heart, is set to be released on October 28, 2021 for the Nintendo Switch.
All of the games in the main series follow their female protagonist during their three years of high school. Throughout the course of the game, the player must raise their stats, go shopping, and go on dates in hopes of wooing one of the many eligible characters by graduation.
About the Wiki
Note: On this wiki, character names are given in order of Given Name, Family Name.

Spoiler Policy
Information on characters' pages generally contains brief character summaries that are widely available knowledge, such as information given on the games' websites. More major spoilers are hidden in spoilers brackets, but reading the pages may still give away minor spoilers such as dating tips, hobbies, likes, and dislikes. Date answers are hidden in brackets for brevity and spoilers. Each character page also has a "CG List" that details how to obtain the CGs hidden in spoilers. However, not every page has been finished and edited to hide these spoilers. Please read at your own risk!
CGs are always hidden in characters' CG Gallery pages. However, images on characters' galleries may contain images from art books and other official art, such as those posted on the games' websites and the official Twitter pages.
Gameplay Guide for Beginners
The Tokimeki Memorial series can be intimidating and confusing for new players who are unused to the stat-raising dating sim genre. In addition, the Tokimeki Memorial series in particular is known for being complex. The TMGS Wiki offers a General Gameplay Guide to provide a basic overview of how the games work, in addition to tips for both beginner and experienced players. The guide is designed to be beginner-friendly and digestible.
Contributions and Community
For a list of current help needed on the wiki, please visit the community to-do list page!

Discord Server
The Tokimeki Memorial Girl's Side Wiki has a Discord server! Come chat with other fans in a friendly environment! There is no NSFW content.
Click Here for the Invite Link!
We hope to see you there! :)